Weird looking knees
This will be the final post for the Seven Sword. In
previous post
, all parts of the kit have their armor on. Now the only thing left to do is to assemble this kit and see how it turns out.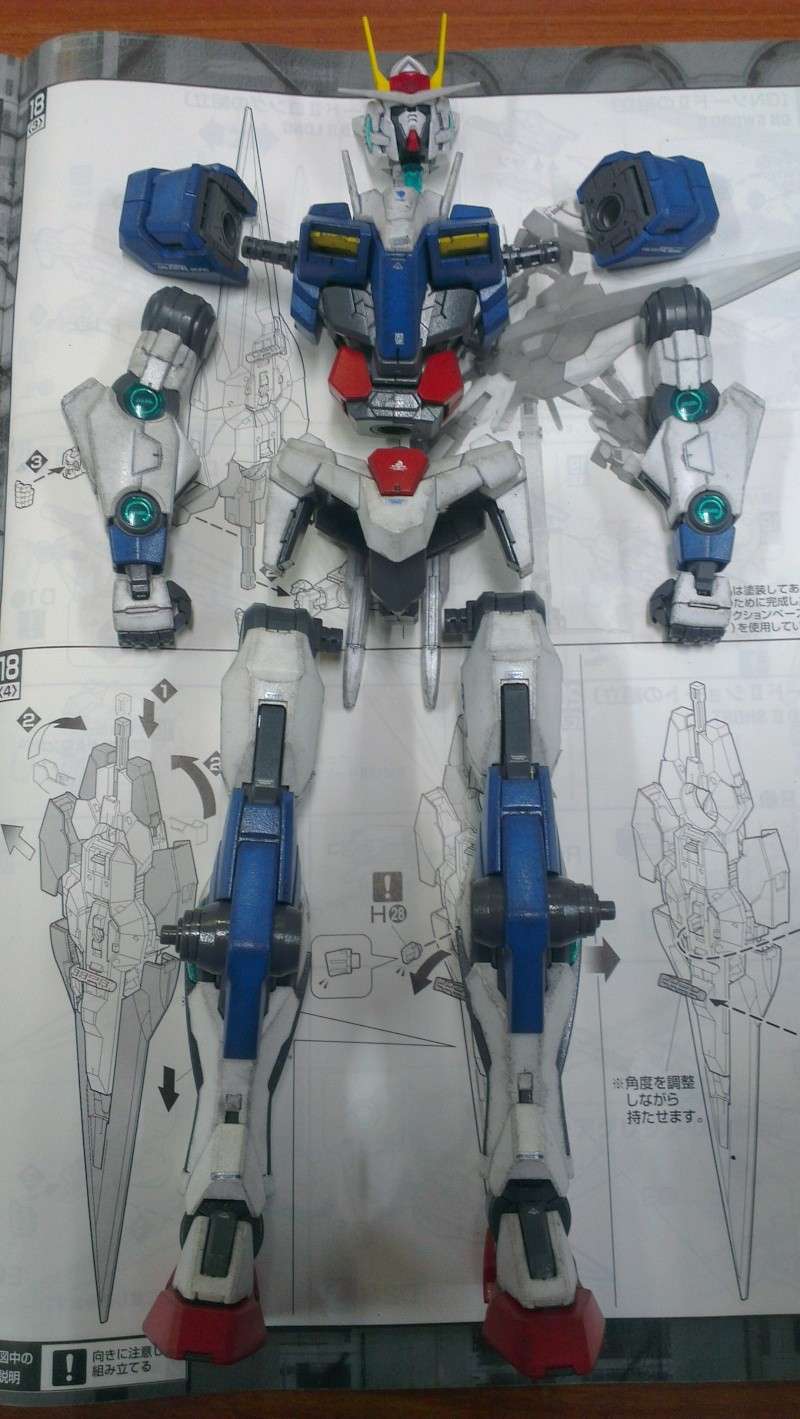 Arranged by sections before final assembly. Missing sections are the weapons and backpack
Putting it all together is straight forward. The only problem I keep facing are the hands. They keep falling off. Either my kit is defective or it is how Ban Dai intended. This is no big issue but does sometimes get on my nerves. A note: Put a little pressure to assemble the legs into the hip joints.
I can say I'm once again happy with the outcome of the shadowing. To me, the kit looks nicer. Has a little depth added to it. When I first put this kit together, something felt wrong. This gundam looks very slim. Could be because the main bulk of the gundam is from the backpack. Only way to know is to but on the backpack and equip him with all his weapons.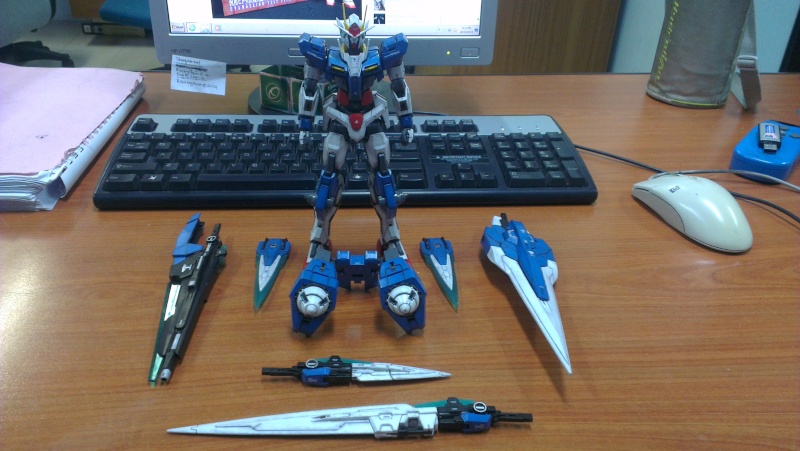 Weapons and backpack all lined up and ready
The slim issue mentioned earlier in the post was correct. After adding the backpack and weapons, this kit look very bulky and solid however there are a few issues with this kit. When the GN Buster Sword II was attached to the GN drive, the entire kit was leaning to the left. I thought I could balance it with the GN Sword II Blaster but I was wrong. The only way to rectify this is to not lock the GN drives. Let the GN Buster Sword II touch the ground and support its own weight.
Just to note, the GN Sword Long is really long and heavy. I tried to position it so that it won't touch the ground but that cannot be done on my kit. Another issue I had with this kit is the knees. With all the weapons attached, it somehow looks weird to me. Is like this kit has swollen knees. No matter how I pose it, the knees still look off.
One other issue is the side skirt. It keeps falling off when I'm adjusting the GN sword Long and Short. This is a minor issue but it can get annoying after a few times. Also the joints for the legs are loose. This kit likes to do a lot of splits.
That being said, seeing this kit fully armed brings tears to my eyes. It has been months since I started on this kit. I'm glad that it is finally finished and the best part is that a display case for MG size kits just arrived. I'm not going to do any poses in the display case. Just simple standing pose with the standing Setsuna in front of it.
As mentioned in the
first post
many moons ago, this is my first Master Grade kit. The process of building it is different from the other grades. This is also my first time trying shading and I think I managed to get a decent outcome. At least it still looks uniform all round and not darker on one side or on a particular section. All in all, I have learnt a few things by building this and I now know why people prefer Master Grade than High Grade.
All WIPs for this kit:
WIP 1: First Master Grade
WIP 2: Small scale figures
WIP 3: Lighter fluid to the rescue
WIP 4: Kick-starting
WIP 5: Gundam Age 1 Normal early production?
WIP 6: Call To Arms !!
WIP 7: First Blood
WIP 8: The shadowing head
WIP 9: Skeleton anyone?
WIP 10: SUIT UP !!
WIP 11: Weird looking knees